Tradigital
Traditional Artists go Digital
Electronic Portfolios combine the best of both worlds allowing artists who are more familiar with traditonal media to archive their work in an electronic portfolio.
As is usually the case, an idea came to me that worked well as we began using the technology to show and archive the incredible art that these students had already done by putting together electronic portfolios of their amazing work.
We used a combination of flat bed scanners and slide scanners to capture the images of their work. The students were required to add a title card and a credit card ( presented by) and then they were to add each piece of art along with informing us of media,title and size of each. A concluding remark was encouraged. The students finished the portfolios and some were ready just in time for the Texas UIL Visual Arts Scholastic Event (VASE) competition where students are interviewed by judges and are scored not only on the work but also their ability to talk about their work.
Imagine how the judges in Texas' Visual Arts Scholastic Event ( VASE) felt when they saw a computer sitting among the pieces of art work that had advanced to the the finals at the judging. This was so new to the entire panel of judges that as the only electronic media instructor present, I was ask to sit at the computer quietly and to show each student presentation.
Vu Pham, one of my students had 33 pieces of his incredible art in an electronic presentation along with information about each piece and an artist's statements. It was incredible and we made history pioneering the first electronic media entries ever entered. The judges were silent and then when the scores came through 11 of my 11 students got the highest scores possible. Needless to say we were overjoyed. The sad part was at the state level, students were proud to see their work on display with ribbons and there was no way of showing the electronic portfolios so the students who created them were not able to feel the same pride as those other students with work on exhibit. It is a shame really as the other students would have been inspired of this I am certain. My artists were instead "silent champions" that were ahead of their time. My intention is to share successes so that you will be inspired to try some of the things shared with you here. So as promised here is Vu Pham's art work. If you click on the links below you will see thirty three of his pieces of very impressive art work.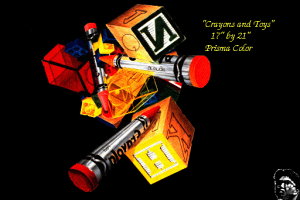 After five years of working to get the site where electronic portfolios can be shown, finally here is the first one ever to have been placed in a competition.Vu Pham was the first Senior to finish his electronic portfolio in time for Texas' VASE ( Visual Arts Scholastic Event ). Here is also his electronic archive of those thirty three pieces of traditional media work that the judges saw as their first electronic media portfolio entry ever in the state of Texas. Enjoy all three parts! Note: to get back, use the back button or arrow on your browser. Also please, forgive me I added audio (voice) and the files were too big to transfer so here are instead three slide shows. Remember also that these were done in 1996 with older digital cameras and scanner technologies. Some work suffered in quality particularly the "Ornaments."The real deal is photographically realistic and beautiful. Art teacher Michael Conley and Camile Jesse did an exceptional job of teaching drawing in Prismacolor and graphite with incredible results.
Vu's Part 1 of 3: Vu Phams Part I
Part 2 of 3: Vu Phams Part II and
Vu's Part 3 of 3: Vu Pham's Part III
You can see why the judges were pleased and awarded him the honor of being a State Finalist. Vu and my other students made history that day.
Sure makes a teacher proud! Visit often as hundreds of other student porfolios and student presentations will be here for you to view and enjoy!
If you like what you see, be sure and tell others. If you don't like what you see, tell me what you would like. Thank you!