Creative Juice
Creative Juice: News To Use: Newsletter Archive
Here you will find the back issues of Creative Juice: News To Use Newsletters.
Enjoy the issues and tell me some of your ideas so we can publish those and all  have fun with new ideas.
January: 2008: The Wait is Over! Launching of Great Sites! Reflective Teaching Practices , Goal Setting Maps Success, and more…
February: Love the Life you Live: Replenish Your Creative Resources, What I Loved About Teaching: A Few of My Favorite Things,Self Portraiture, Love an Old Book: Give it a Second Life, Heart Art: A Valentine's Day Assignment.
March: With Spring Time Comes Renewal, Happy Youth Art Month,
April-May: Successful Closure to the End of the School Year, End of Year Student Made Presentations, Checklists, Portfolios, Reflections, Summer Time: Idea Institutes: Lesson Planning Made Easy, Staff Development with a Art-i-tude..
Note: Planning a series of Cruise with your MUSE staff development sessions on board a cruise ship with sketching and photography expeditions when we dock in ports of call. Anyone? Anyone?
September October: Drawing Conclusions,Contour Drawing Continuations, and more…
Download your  September October COPY!
Creative Juice Play Pamplet: In my attempt to try a different format, this allowed me  to share the way in which the hundreds of  lesson plans in my ArtWorkBook series are written. Here is one attempt at that. An art teacher from Spring Branch ISD commented favorably on how much she liked this idea. How about you? The whole point of this site and all my others is to connect with art teachers across the planet. So let me hear from you as I wait anxiously in the  hopes that this new members only site allows for that kind of sharing of successes. Any questions? or comments email me @ jmh5@mac.com
Download your Creative Juice Play Pamplet!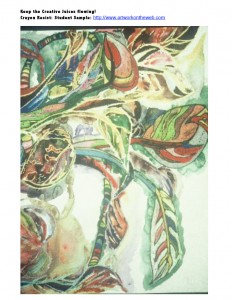 Creative Juices presented at TAEA's 50th annual Art Education Conference
Presented Creative Juices at the 50th annual TAEA conference in Galveston, Texas' Moody Gardens to a room full of art enthusiasts. It was refreshing and good to know that what I am offering is wanted and needed. Please do tell me what else you need so that I may serve you in preparing products and staff development with an Art-itude that keeps those creative juices flowing. Send your completed green survey back for a FREE artful E-book. Gather together 1–25 of your art buddies and host an ArtWorkBook Bootcamp in your area.
"Magic has often been thought of as the art of making dreams come true:the art of realizing visions. Yet before we can bring birth to the vision, we have to see it." Starhawk
Download Creative Teaching Chronicles of my amazing 34 year ARTFUL teaching life.
Here is an IRON ON Transfer to remind you to stay and to GET JUICED!
Get your FREE Bookmark for all the artsy sites to visit often to see what inspirational content has been added and to comment adding your own insightful ideas.