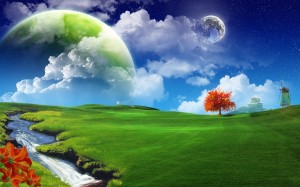 Creative imagination is a fascinating thing. A friend of mine recently ask me to expand upon an idea that I had commented on. The idea was that I enjoyed ways of doing things that allowed my own creative imagination to flourish. Recently my discovery had to do with the fact that when I play and relax, my creative ideas abound. Ideas pour forth when doing the simplest things. Examples that were shared with her included the following; write each day at the same time and your creative muse will arrive with you, paint a picture and eventually the painting will begin to paint  itself taking on a life of one's own, create a vision board and you become clear on what you want in your life, write out a gratitude list and suddenly you are awakened to what you want more of in your already blessed life. Get your hands in the dirt in gardening and as you weed your garden, your thoughts begin to be more organized. Cook a meal and as the ingredients begin to blend and smell and taste delicious so do your creative ideas begin to flow.
Relaxing and playing allows the floodgates to open and you are illuminated with new and unique ideas. Reading is another favorite past time and as words and thoughts are consumed, new innovative concepts emerge.
Napolean Hill, who wrote the 1937 classic Think and Grow Rich devotes an entire chapter in Laws of Success to imagination. Hill explored the scientific basis for the concept of the LAW of ATTRACTION as well as a common sense  explanation for how like attracts like and how this actually works in the real world. Next, he focused upon improving the way Infinite Intelligence is accessed through the imagination. Hill created methods to unlock ideas hidden in our subconscious minds and developed other methods that allow the possibility that ideas may be accessed from outside sources.
Hill described two kinds of ways to use your imagination. One was called "synthetic"imagination which is actually more effective if described as synthesized imagination. This approach uses all of your life experiences, knowledge and allows new combinations of former knowledge. Inventors like Thomas Edison used this approach when as he discovered 10,000 ways to not create a light bulb with consistent efforts, he finally found a new combination of knowledge that made his efforts a success. Creative imagination is the second approach and this one employs the contact made with Infinite Intelligence and allows us to telepathically access information from other people's minds.
Hill goes on to say that his term Cosmic Habit Force is WHY his methods work. Infinite Intelligence is HOW it works and Imagination is WHERE it works. Without totally understanding all of this new terminology, my confidence increases as in my own life experiences, the kind of fun activities that I engage in allow a simultaneous opportunity to have solutions present themselves as these activities are enjoyed. It also is in alignment with the idea that what you resists persist. Once you are relaxed and no longer pushing against things in your life, things tend to be released.
Other methods include a consistent practice of meditation will give you a "tapped in, tuned in and turned on" access to Source with ideas flooding your mind with a  Divine intervention.This can also be called "intuition." Recording your dreams will have those messages and symbols become clearer to you while solutions are presented to a challenge that you went to sleep thinking about. This new epiphany came to me as I refused to spend all day plugging away at projects—instead I made the decision to enjoy my life more. Each day do more of the things that I love. You can imagine my surprise when I realized the  incredible benefits of such play time. Julia Cameron in The Artist's Way gives credence to these same ideas when she encourages you to enjoy an artist's date with yourself each week to replenish the creative resources that may have been depleted in your busy and overworked lives. Cameron says,
" Creativity is God's will for us and should be practiced like any other spiritual practice—a day at a time."
Discovery of this truth and way of being and continuing to pursue the avenues that open up for me can only catapult me into  new and exciting arenas that teach me more about myself and life. Continuing down this kind of path can only reveal truths and like honesty in a relationship, will only take me deeper.
" I have always known that at last I would take this road, but yesterday I did not know that it would be today." Narihara  (excerpted from Christina Baldwin's Life's Companion)
Recommended Readings:
1. Think and Grow Rich by Napoleon Hill
2. Life's Companion by Christina Baldwin
3. The Artist's Way by Julia Cameron