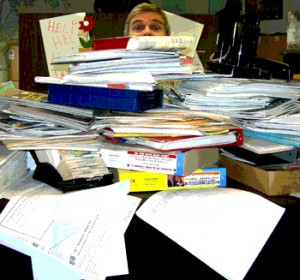 In my last post, I mentioned that I was feeling the "urge to purge." For any art teachers out there, you know that is a rare sensation as we usually were on the hunt for new still life items or interesting and unique things to use in decorating our classrooms, homes or garden rooms.

However I have found that clearing out stuff and making room for new things can do a lot to lift your spirits. When we make art, we sort and choose. Now I will be the first to say that during the process as you turn your house upside down, that can be more than a little bit distressing. When it is all said and done, now that's a very good feeling.  I  will confess that I have always been a " pack rat,"  and finally I am ready to unpack many unused items. After the clearing out, I will attend more estate sales and auctions and seek out some new  unusual and unique kinds of items.  What I have discovered is as I move through the layers, there is a system of organization underneath the top layer of stuff. It is getting some things out the door to make room for an organizational system that works for you now with what you are doing in your life.
Yesterday for example, I took the leap and purchased a new IMac computer with a huge 27″ screen. I am more than anxious to get it set up and running and have spent two days backing up the information on the two 300 GB hard drives. It gave me an opportunity to organize and discard duplicates and unused, outdated items. It will be fun to continue organizing all the information and even get creative with the new applications to see how I can create some new things as I gain the skills.
It is a new year and a perfect time to streamline each of our lives. I read somewhere that the state of your environment is a reflection of your state of mind. I wouldn't want you to pop in on me in my office with boxes and disks and cables laying everywhere. Oddly enough, I feel invigorated and excited about the new possibilities that can result from my ongoing intentions to "lighten up."
Happy New Year and may you also be inspired to "create the space in your life for miracles," as Michelle Passoff says." by freeing yourself from too much stuff." I have a ways to go and it's a start.
"Once there is nothing to improve upon in the physical environment one can set about improving on oneself." Henry Miller
Recommended Readings:
1. Lighten Up: Free Yourself from Clutter, Michell Passoff. Offered in this book is a look at how stuff robs you of energy and when the stuff is eliminated, your free to create miracles.
2. Clutters Last Stand, Don Aslet. This book provides a whimsical approach to junk with a junkee's exam to see if you classify as a " junkee."