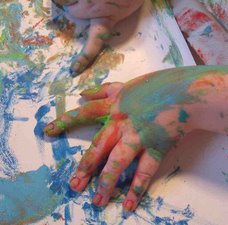 Art is considered the first language. During my teaching life in both art and eventually art with technology, I had a poster with a child scribbling saying that art is/was our first form of communication. Those fortunate enough among us that both read and write use this form of communication daily. We use everyday aesthetics in our lives—in marriage, friendships, chores, and in most everything we do. We use our thoughts, our creative ideas in preparing our meals, rearranging our homes, dressing each day for work or play. We do the same kind of problem solving as Beethoven, the difference is that our symphony is our life. Whenever we set things apart and tend to them in a special way, we are creating something new.
Although teaching art and technology was my life work in the public eyes. My greatest work of art has been my life. Now in my  fifth year of being out of the public school system as a classroom teacher,  I realize that more than ever. We can create each moment to make things more beautiful, more tasty, more appealing to our senses.
More than ever, I am enjoying savoring each opportunity for creative change. My friends and family have always kidded me because when I clean house inevitably, I will rearrange a room or two—if not the entire house. It makes cleaning a lot less repetitive. It  also adds so much fun to the  living in your home when your environment reflects personal changes, creative additions and can be found in good order.
" Every action, every moment,every step is filled with the work of art."
Lately, my resolve has been to eliminate extra things from my environment, pass them on to someone else who can appreciate them. It seems like the perfect time of year to be thinking about new spaces and places and ways to live in your own life. What do you do in your life that reflects your creativity?
"We are traditionally rather proud of ourselves to have slipped creative work in their between the domestic chores and obligations. I am not sure we deserve such A-pluses for that." Toni Morrison
Let me hear how you have added some zest to your day to day living with a punch of creative work in between the things you must do.
Wishing you a fulfilling and creative New Year! 2010—the year to begin…